Geocaching - hunting for treasure with your GPS.
Note - This content is maintained by BritVics members, please do not move
What is GeoCaching?
Edit
In May 2000, the United States government officially removed "selective availability" from the Global Positioning System satellites. This meant that civilian GPS units now possessed greater accuracy than previously permitted. Within days aGPS enthusiast hid a container in the back country of Oregon, posted the coordinates on the internet and told others to "go find it!"
The phenomenon of Geocaching sprang from that one simple posting! As it has grown in the years since, it still maintains the simple guidelines of those early days—find the cache, take something, leave something, and sign the logbook.
There are now over 520,000 Caches worldwide ranging from 200km into the middle of the desert in Kuwait, near the pyramids of Egypt, up cliff faces (requiring rock climbing experience), under the sea (requiring SCUBA gear) and even halfway up Mount Everest!
GeoCaching in Victoria
Edit
There are over 2,500 caches in Victoria alone. They can be found in the heart of the CBD to the top of Mt Baw Baw to the coastal beaches of Mornington Peninsula. With an extremely active community of fellow GeoCachers more than a hundred new caches are added each month across Australia.
How do you get started?
Edit
Getting started is easy. If you have a handheld GPS and Internet access, you're halfway there!
Log on to geocaching.com and enter the post code of the location where you would like to go GeoCaching.
Enter the longitude and latitude of the GeoCache you want to search for into your GPS. You will probably also want to print out a copy of the GeoCache sheet.
Go get it! Search in the area your GPS leads you. Usually GPS accuracy will be limited to a thirty-foot area. Keep this in mind as you search.
When you find the cache, take something from the container and leave something you've brought with you. Sign the logbook and then return the container to its hiding spot for the next finder.
How Does GeoCaching Work?
Edit
A Geocacher carefully chooses a location and fills a container with items to trade and a logbook. He then registers his new cache on geocaching.com to share it with the rest of the world. Containers are typically watertight and often are transparent, so that the contents are clearly visible to anyone who might stumble across it accidentally.
After receiving the coordinates and other information from the website, another Geocacher uses a hand-held GPS to look for the cache. The GPS receives signals from the Global Positioning System satellites to give the user their current longitude and latitude. However, the Geocacher has no idea of the altitude of the cache location or the terrain or what kind of structure the cache container might be hidden in. This is part of the challenge of finding the cache!
The finder takes something from the container as a memento of their visit, leaves something for the next player, signs the logbook and returns the container to its hiding place. Later, they will log their visit on geocaching.com so that others can read about their adventure.
Travel Bugs & GeoCoins
Edit
Travel Bugs
Edit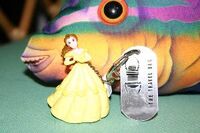 A Travel Bug is a "trackable" item that moves from place to place, picking up stories along the way. Simply put, its a personal item with a metal tag that you attach to an item. The tag allows you to track your item on Geocaching.com. The item becomes a hitchhiker that is carried from cache to cache (or person to person) in the real world and you can follow its progress online.
Each Travel Bug has its own unique tracking number stamped on it. This tracking number is used as proof by the user that they found the item. It also doubles as a way for the user to locate the personal web page for the travel bug.
Travel Bugs are tracked with the help of users who go online and "grab" them from caches, or receive them from users. The idea is by picking up and dropping off Travel Bugs on the web site you are mirroring the Bug's real world adventures. Each Travel Bug has its own "diary" that follows its movements.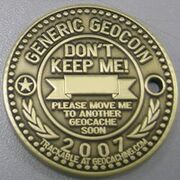 A GeoCoin is a special coin created by individuals or groups of GeoCachers as a kind of signature item or calling card. Like Travel Bugs, each GeoCoinis assigned a unique tracking ID which allows them to travel from GeoCache to GeoCache or to be passed amongst friends, picking up stories along the way. How do GeoCoins work?
Because each GeoCoin is assigned a unique tracking number its progress can be tracked online through logs which the finder posts. There are different types of logs which can be made on a GeoCoin's personal home page, whether for virtually picking up or dropping off the coin, or simply for "discovering" the coin. You'll have the opportunity to share your thoughts on the GeoCoinpage and to upload any photos associated with it. In addition, by logging a GeoCoinyour online collection will reflect that you found that particular coin.
There are literally thousands of designs which have been minted over the past seven years. You can even have your own coin designs minted and sent out into the world
Variations of the Game
Edit
As GeoCaching has grown, several variations of the game have evolved. Some are:
Micro-Caches - Small caches often hidden in 35mm film canisters, usually with just a log-sheet. Very often these are hidden in urban settings with the challenge being finding them without being noticed.
Multi-Caches - A cache in which the finder must follow a set of instructions and go to several locations before finally finding the cache container. This is a great way to offer a guided tour of an area.
Event Caches - A meeting where several Geocachers get together for a day of fun. These are usually held in state parks or other public areas.
Mystery Caches - A puzzle must be solved in order to find the location of the cache container. The possibilities are only limited by the imagination and cunning of the hider.
Do's & Dont's
Edit
Do:
Get permission where needed before hiding a geocache.
Fill the cache with family-friendly objects.
Respect the environment—practice CITO while caching and leave the area as undisturbed as possible.
Mark your container plainly so that it is obviously a Geocache.
Perform monthly checks on any caches you have hidden.
Don't:
Ever bury a cache.
Trade items that might be harmful (like lighters or knives) or family un-friendly.
Put any food items in the cache. These can attract animals who might be harmed or might damage the container.
External links
Edit
Ad blocker interference detected!
Wikia is a free-to-use site that makes money from advertising. We have a modified experience for viewers using ad blockers

Wikia is not accessible if you've made further modifications. Remove the custom ad blocker rule(s) and the page will load as expected.